TWITTER: — @jamiedmurphy
Friday, April 27
Fremantle v Carlton (Patterson) @ 6:45pm
Saturday, April 28
Western Sydney v Western Bulldogs (Manuka) @ 1:45pm
North Melbourne v Gold Coast (Etihad) @ 4:40pm
Melbourne v St Kilda (MCG) @ 7:40pm
Brisbane v Geelong (Gabba) @ 7:45pm
Sunday, April 29
Hawthorn v Sydney (Aurora) @ 1:10pm
Richmond v West Coast (MCG) @ 3:15pm
Adelaide v Port Adelaide (AAMI) @ 4:10pm
Teams
All the team news as it comes in: http://www.afl.com.au/teams/tabid/16469/default.aspx
Key INs & OUTs
IN: Fyfe (FREM), Walker (CARL), Cameron, Coniglio, Greene, Adams (GWS), Lake (WBD), Horsley (GCS), Sylvia, Grimes (MELB), Smedts (GEEL), Birchall, Hodge (HAW) & Goodes (SYD).
OUT: Sandilands (FREM), Bower, Carrazzo, Yarran (CARL), Mohr, Kennedy (GWS), Giansiracusa (WBD), Goldstein (KANG), Ablett, Hall (GCS) & Gray (PORT). EDIT: Chad Cornes OUT!
…Captain's Corner
Hopefully you took advantage of the Vice Captain loop-hole that has been available over the partial lockout rounds so far, and gave the VC to Swan or Pendlebury. If not, here are some options for you:
Matthew Boyd (WBD) vs Greater Western Sydney
2012 Ave: 107.75
(Scored 131 & 106 vs GCS last year)
Given they play GWS this week, so you can almost guarantee a 130+ to the Bulldogs' skipper. Should rack up possessions at will, as he has done so far this season, averaging 31 touches a game. Ironically, the only thing that might stop Boyd going 160+ might be his team mates; if the Dogs have a stellar game, as they're expected to, it could be a case of points being pinched by the likes of Murphy, Cross, and co. Should be safe for 130+ though.
Nick Dal Santo vs Melbourne
2012 Ave: 116
Ave vs MELB: 112.5 (Since Rnd 1 2009)
Not surprisingly, while Dal santo represents a silky machine of efficiency, the Saints' midfielder also embodies one of the best SuperCoach scorers of the competition's history. Has a solid record against Melbourne, having scored 120+ in three of his last four games against the Demons. Should replicate his recent form against the Dees, however NDS looks a prime target for mature age recruit James Magner, who has been somewhat successful in the tagging roles he's undertaken the past few weeks.
Brendon Goddard vs Melbourne
2012 Ave: 114.5
Ave vs MELB: 116.25 (Since Rnd 1 2009)
Similar to Dal Santo, Goddard is an example of a fantasy point accumulator. Has a ominous record against Melbourne of late, notching up 127, 135 & 124 in his three most recent outings against them. Should run amok at the MCG this week, despite the return of Sylvia and Grimes.
Lance Franklin vs Sydney
2012 Ave: 109.5
Ave vs SYD: 109 (Since Rnd 1 2010)
Scored 89 last week despite kicking 1.6 and giving away seven free kicks in his side's loss to West Coast. It was probably the low-scoring nature of the match that saved his SC score. Buddy had a day out against the Swans last time the teams played, racking up 28 disposals, nine marks and kicking 6.6 for an impressive 146 SC points. You'd have to back him in for another big one, espeically down in Launceston.
Adam Goodes vs Hawthorn
2012 Ave: 106.67
Ave vs HAW: 132.4 (Since Rnd 1 2009)
Will be looking to make amends for missing last week, and has produced some hefty scores against the lads from Glenferrie in the past, pumping out 183 and 166 in 2009. Normally an upgrade option in SuperCoach, given he typically finishes strongly most seasons, however Goodes start to 2012 has been impressive with a pair of 115s and 90 coming from his first three games. The Swans are undefeated, and should be a strong chance in Tasmania this week. Goodes improves their chances of leaving the Apple Ilse with a 'W'.
TRADE CENTRE
Gary Ablett
Whether you're going for league wins or overall ranking, my advice would be to keep Ablett in your team. From memory, the little genius has an amazing recovery rate from injuries, and I was particularly heartened by this tweet: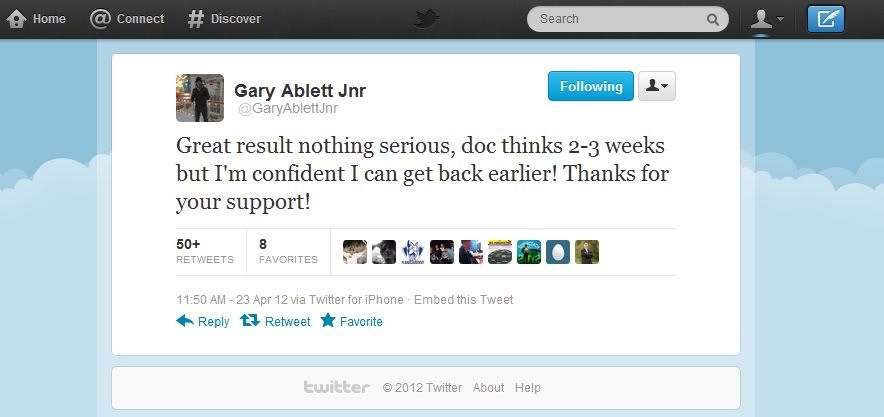 With Magner, Sheil and McDonald scoring well, and Green & Coniglio back in this week, most teams should have decent bench cover. Bottom line: KEEP ABLETT, because a) he could be back as early as next week, and b) It'll be difficult to get him back into your side without using at least 2-3 trades.
Shane Mumford/Aaron Sandilands
Five rounds in, and it feels like I've been thrown into Doc Brown's Delorean and sent back to 2010 – the year I burnt about five trades on my ruck division. First Mumford misses with a bizarre back infection; now Sandilands' metre long calf muscle starts giving him greif. Now if you've rolled with a two-premium ruck strategy and you think you can survive with Giles at R2, perhaps you're best advised to simply bench Mummy or Sandi until we learn a bit more about their condition. However, if you're like me and are sticking with the three-rookie-ruck approach, my advice would be;
For Mumford owners, trade away. As much as I love him, the 'snag-man' is set to miss 3-4 games whilst recovering from back surgery, and those 3-4 zeros will hurt both your chances at success, in terms of league and overall prospects. McIntosh looks like a great option at $432,300. He seems to have taken over the #1 ruck mantle at Arden St, to the point where Goldstein, the most improved SC player of 2011, has been dropped. You'll also pocket a cool $178,000 should you decide to bring in 'Big H'.
For Sandilands owners, I think holding Sandilands, despite the zero you may cop this week, is the best option. Given Ross Lyon's comments, I've got hope of a Round 6 return for Sandilands:
 Originally Posted by 
Ross Lyon
"We were confident he (Sandilands) would get up this week. It didn't quite happen, so we're confident he'll get up next week.'
'Aaron's one that would push himself through, but certainly he's not right to go. I mean we could leave it until tomorrow and all those things, but we've got real confidence in Jon Griffin."
Source: Sandilands blow for Freo – Sky News
My advice? Hold Sandi for at least this week until we know more about his condition. If you're desperate to trade, Ryder, McIntosh, Nic Nat or Cox are viable options.
ROOKIE WATCH
James McDonald (MID, GWS) – $106,600
2012 Average: 89 (100 & 78)
Priced just a tick over $100 large, McDonald looks to have continued where he left off at Melbourne in 2010. In his two games for GWS, he's averaged 19 disposals, four marks and 8.5 tackles per game. I'm still bewildered that he didn't play for the Dees last year, given he was ranked in the top three in a few key statistics at the club (contested possessions, tackles, etc). One of your trades this week simply HAS to be used to bring JMac in if you don't have him.
Adam Treloar (MID/FWD, GWS) – $113,200
2012 Average: 73
Another GWS young gun who has hit the ground running, having notched up a pair of 73s in his first two games, in addition to providing useful DPP ability. Averaged the third most contested possessions for the Dandenong Stingrays in the TAC Cup (2010), while last year he was able to average 19 disposals and four I50s per game in the NEAFL (Courtesy of AFL Prospectus). If you can spare a trade this week amidst the Ablett/Mumford/Sandilands carnage, you've got to bring him in.
Billie Smedts (DEF/FWD, GEEL) – $113,200
2012 Average: 44
Hasn't exploded into the 2012 season like many thought he would, scoring 46 and 42 in his first two games, albeit against quality opposition in Fremantle and Hawthorn. Does offer multi-position capabilities being listed as a defender-forward, but you should ensure you've got Treloar & McDonald before considering this future Geelong star.
As usual, any feedback is welcome, preferably via this thread, or twitter (@jamiedmurphy)